November 18, 2019
The TWU is proud to endorse the recently introduced Safe Aircraft Maintenance Standards Act (H.R. 5119). Led by Representatives Peter DeFazio (D-OR) and John Katko (R-NY), this bipartisan bill would close five loopholes that allow airlines to offshore maintenance of aircraft onto a lower safety standard abroad. The bill would also impose a moratorium, blocking the FAA from approving any new foreign repair facilities until they implement the legislation, as well as past pieces of legislation in this area.
In recent years, airlines have offshored more than 8,200 jobs previously held by TWU members to foreign aircraft maintenance facilities. These facilities do not have any drug and alcohol testing, background checks, threat assessment, unannounced FAA inspections, or mechanic qualification requirements. The result has been an increasing number of incidents caused by poor maintenance at the facilities – including vital engine components held together by tape and wire and found by an American Airlines mechanic in Chicago earlier this year.
The TWU is on the frontlines fighting to protect U.S. workers from government sanctioned outsourcing. At airlines, public transit agencies, railroads, and other industries, we are fighting to ensure that our members' jobs remain stable and safe at all times.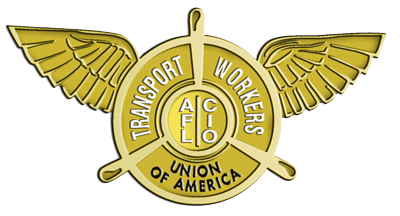 At the TWU International Executive Council meeting today, Executive Vice President John Samuelsen was elevated to International President after incumbent President Harry Lombardo unexpectedly announced his retirement, effective immediately. Samuelsen is President of TWU's largest affiliate, Local 100 in New York City, which is also the nation's biggest transportation local union with 42,000 active members.
Samuelsen, 49, becomes TWU's 10th International President and the youngest to achieve that position since founder Michael J. Quill in 1937.
A lifelong Brooklynite, Samuelsen joined TWU in 1993 after signing on with the New York City Transit Authority as a Trackworker.
He was elected Local 100 President in December 2009 and was overwhelmingly reelected in 2012 and 2015.
Samuelsen emphasized that the core leadership of TWU remains strongly united with Secretary-Treasurer Alex Garcia, and Administrative Vice Presidents Gary Maslanka and John Bland, all standing firmly as one. He said the leadership's immediate priority will be working with the TWU national bargaining committee on all of the union's pressing national contracts, including the vital American Airlines negotiations, which covers over 25,000 TWU members nationwide. Samuelsen said he will continue in his role as Local 100 President for the short term, to see through the implementation of the most recently negotiated agreement for the Local's largest bargaining unit, the 38,000 members at MTA-NYCT, MTA-MABSTOA and MTA Bus.
Like TWU's founding President, Michael J. Quill, Samuelsen is an ardent believer in industrial trade unionism. He explained his philosophy of leadership to the International Executive Council in the following manner: aggressively take on management to win the best contracts possible for TWU members; develop a strategic plan to organize new workers across all of our industrial sectors; utilize the resources of the International union to fight back against governmental fiscal austerity in public transit; work alongside TWU locals to develop and fight strategic campaigns to advance the union; and challenge the Democratic Party to once again become the party that wholeheartedly represents the interests of the trade